Hey everyone! What's poppin'? A little about me: My name is Chase West. I'm 18 years old and am attending college soon. I can still have fun while I'm young though, right? I've known Nikki for almost 5 years. She really shows me the artsy-ness of everything! Even though it may not be for everyone, I hope you enjoy this post!
So as we all know, alot of things came out of the eighties: hair, cheesy work out videos, and a wide variety of music. Out of the genres of music that came along, one of them was Punk, which in turn, led to Goth, a darker type of music that had a subculture following as well. Around the early eighties people started to embrace a darker look. These looks clearly indicated influences from Horror films and even Victorian style clothing. Being a part of the subculture showed that you understood that life could be looked at in different ways that were just as fascinating. Today, it's no wonder why there are just as many followers of this awesome style!
There are some items in my closet that I've acquired over the years that I love. These range from shoes to hoodies to necklaces. I've donned the darker, alternative style for years now, and I've always felt comfortable with it! Here are a few outfits that I don't mind throwin' on every now and then. Here is one of my favorites. A simple yet edgy black and red long sleeve, complete with a plain black polo on top. Simple, and short to the point, but a great look. It can be dressed up for a little more formal events, or dressed down for the weekly casual Friday.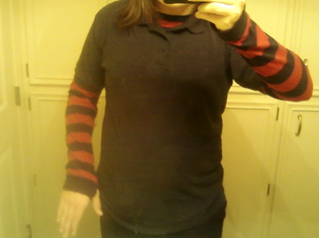 Now let's face it, you can never go wrong with a graphic tee! Am I right? Tons of stores sell some that are decorated with skulls, slogans, or some other form of randomness. Throw in a nice necklace (Maybe a sexy bat one?) and you have yourself a rockin' look. Pair it with some dark wash jeans, in the fit of your choice, and your'e ready for a day at school or just a night on the town.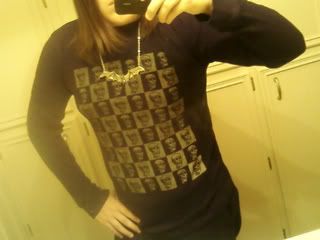 And, who says you can't express your darker side in the winter time? Finding a simple black hoodie or even one with zippers, chains, etc. isn't too difficult. Once you have one your ready to take on the colder weather!
To complete any look, grab a pair of black pants or jeans. Wear them how ever you like; flared, boot cut, or even skinny. Or, as an alternative, grab a pair of dark washed jeans if you're not so much into black bottoms. Last but not least, throw in some combat boots and that's the icing on top of the cake of your life.
Now, if you know me in person you'll know that I'm a person that shops all around. Whenever I see something I like, I'll buy it. Regardless of the store it's in. However, there are a few stores that I've been a loyal customer to.
1.
Rivithead.com
- They have a wide range of clothing, jewelry, etc. This website has what you need, especially if you're more into the Cyberpunk or BDSM side of it all. I'm a bigger fan of their jewelry and shoes.
2.
Infectiousthreads.com
Read the title, enough said.
3.
Toofastonline.com
This is a unique store, they have items from Vintage tees to Trench Coats; great stuff there!
4.
Bodypunks.com
is the place to go for all your accessory needs. They not only have jewelry but also belts, bags, and hoodies.
Well, that's about it for this post. Now always remember: enjoy your style; embrace it! If you get criticized ignore it. If this style wasn't great it wouldn't have lasted for over 20 years!